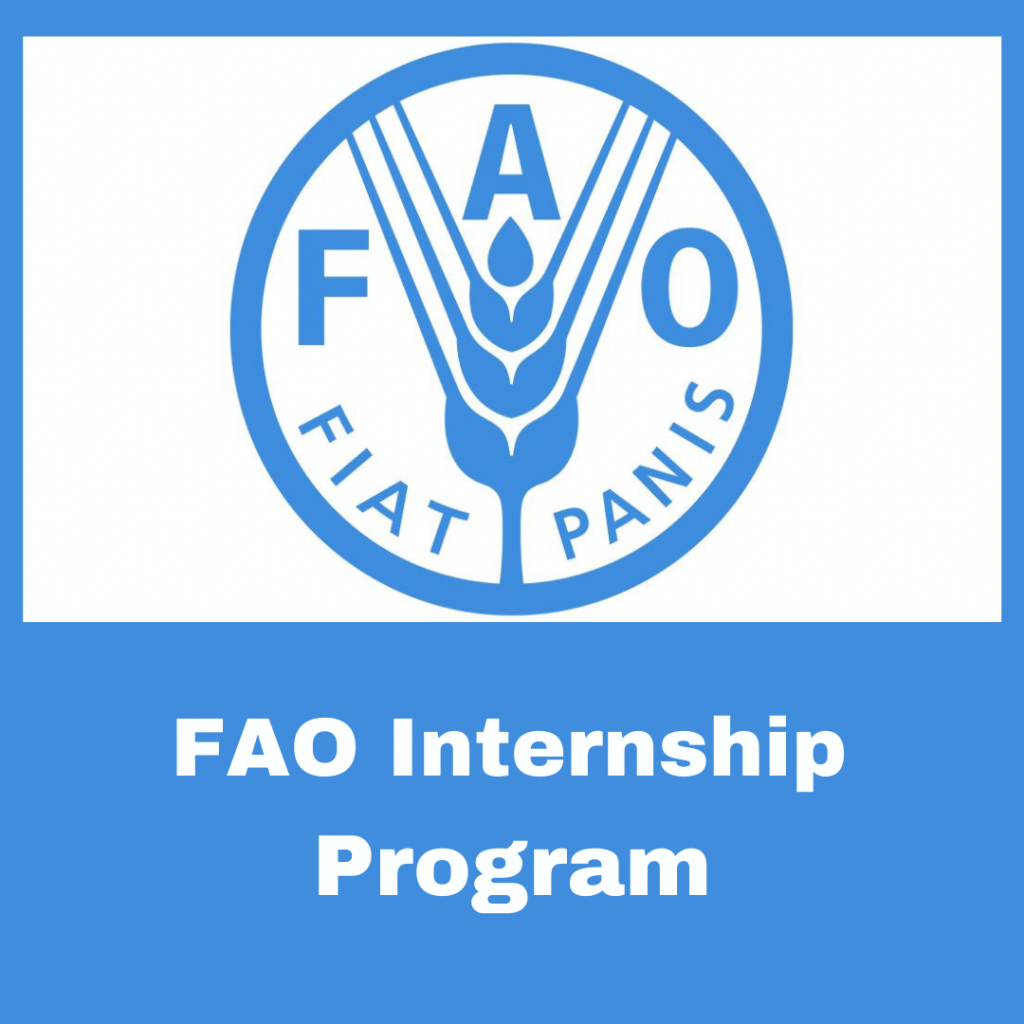 Another exciting news from the UN. The Applications are open to apply for the FAO Internship Program 2022. The FAO is a specialized agency of the United Nations. It Stands for Food and Agriculture Organization. They have opened an Internship portal for all international Undergraduate, Masters's, and recent graduates. Candidates can be from any nationality. In addition to its headquarters in Rome (Italy), FAO works in over 130 countries worldwide. FAO is under United Nations and you can also apply for the other Fully Funded United Nations Internships 2022.
FAO offers a Paid Internship. Undergraduate, Graduate or Post-graduate degrees in different fields are welcomed to contribute by their knowledge and gain practical experience in their field of interest. The FAO Internship Programme is a learning opportunity. You can apply for any duty station across any country.
There is No need for any Language Test like IELTS/TOEFL. The duration of an internship assignment is between 3 and 11 months. Candidates should be aged between 21 and 30 at the start of their internship. Moreover, there are many other Internships are open too. The detailed information about the Food and Agriculture Organization Internship 2022 is given below.
Topic covered in Scholarship Info Section
Details About FAO Internship Program 2022
Organization: FAO
For: Undergraduate/Graduate/Post Graduate
Financial Coverage: Fully Funded
Deadline:

No Deadlines
Financial Coverage
Yes. Interns will receive a Stipend in local currency and not exceed US$ 700 per month. In this amount, the interns can easily manage the other expenses.
Medical coverage related to service-incurred is also provided
Eligibility Criteria
Nationality: candidates must be nationals of FAO Members.
Education: candidates must be students enrolled in an undergraduate or graduate or recent graduates.
Languages: candidates must have a working knowledge of at least one FAO official language (English, French, Spanish, Arabic, Chinese, or Russian).
Age: Candidates should be aged between 21 and 30 at the start of their internship.
Skills: candidates should be able to adapt to an international multicultural environment, have good communication skills, and be knowledgeable in the use of basic computer programs.
Family relation: candidates with family members (defined as brother, sister, mother, father) employed by FAO under any type of contract are not eligible for the Internship Programme.
Deadline
There is No Deadline for the FAO Internship Opportunities. Candidates can apply from time to time according to the Vacancies.
How to Apply
You can visit the FAO Internship Website here
Click on the Internship Programme in the sidebar.
To check your country if eligible. Please Visit here