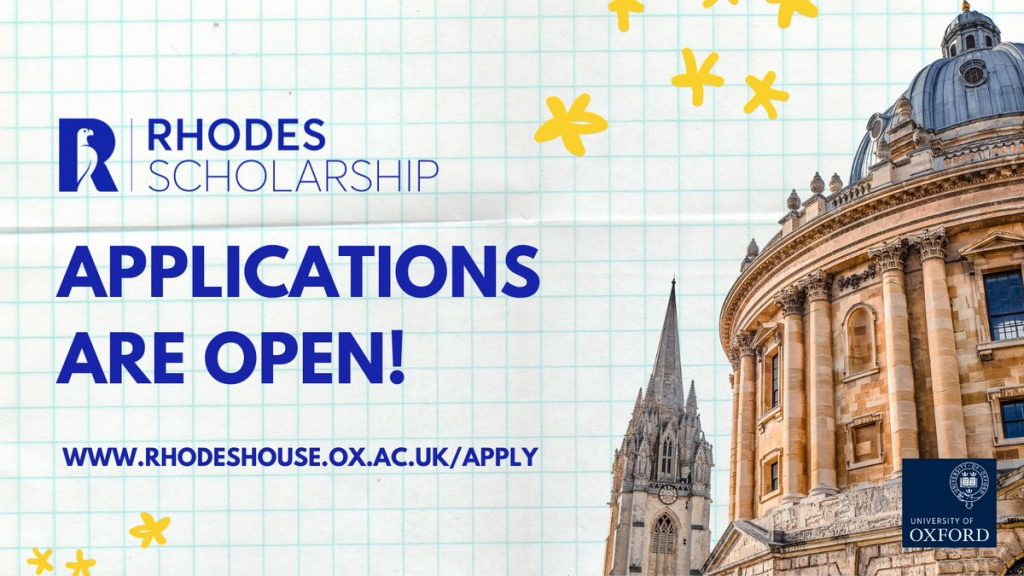 A life-changing opportunity. The Rhodes Scholarship 2023 is a postgraduate award for students to study at the University of Oxford. It is one of the oldest graduate scholarships in the world. The Rhodes Scholarship is considered among the most prestigious international scholarship programs in the world. It is a life-changing opportunity to complete Masters or PhD degree at the University of Oxford. The Rhodes Scholarship is a Fully Funded Scholarship awarded to young people from around the world to study at Oxford.
Each year Rhodes awards 100 Scholarships to International Students from different countries. Rhodes Scholars come to the UK for two or more years and can apply to study most full-time postgraduate courses offered by Oxford University. This scholarship was established in 1902.
Apply for the University of Oxford Rhodes Scholarship by following the steps. The Scholarship will cover all the Expenses for the Full Duration of the Program. There is No Application Fee. The Scholarship is highly competitive. The Rhodes Trust will select 100 students from 22 countries for a Fully Funded Master and PhD Scholarships. The complete information about the Rhodes Scholarship Application is available below.
Details About The Rhodes Scholarship 2023
Scholarship Country: UK
University: University of Oxford
No. of Scholarships: 100
Financial Coverage: Fully Funded
Course Level: Masters, PhD
Opening Date:

1st June 2022
Related Articles:
What does the Rhodes Scholarship Cover?
All University and College Fees
The University Application Fee
Living Stipend (£17,310 Per Annum) (For Living & Accommodation Expenses)
Two Economy class Airfare to Oxford at the start of the scholarship and one economy flight back to the student's home country at the conclusion of the scholarship.
Study Visa Fee
International Health Surcharge (IHS)
On Arrival in Oxford, Scholars Receive a Settling in Allowance (£225)
Study Courses at Oxford by Rhodes
What you can study at Oxford University as a Rhodes Scholar? There are numerous courses covered by a Rhodes Scholarship. below you can check the courses offered by the University of Oxford and Rhodes.
List of Countries that are Eligible for Rhodes Scholarship
How Many Rhodes Scholars Per Year? The Rhodes 100 Scholarships are divided among these countries.
Rhodes Scholarship AUSTRALIA (9 Scholarships)
BERMUDA (1 Scholarship)
Rhodes Scholarship CANADA (11 Scholarships)
CHINA (4 Scholarships)
EAST AFRICA (1 Scholarship)
Covering Uganda, Tanzania, Rwanda, South Sudan, and Burundi
GERMANY (2 Scholarships)
HONG KONG (1 Scholarship)
INDIA (5 Scholarships)
ISRAEL (2 Scholarships)
JAMAICA & THE COMMONWEALTH CARIBBEAN (2 Scholarships)
Covering Antigua, Bahamas, Barbados, Belize, Trinidad & Tobago, Jamaica, Dominica, Grenada, Guyana, St. Lucia, St. Vincent, St. Kitts-Nevis, Montserrat, Anguilla, the Turks and Caicos Islands, Cayman Islands, and the British Virgin Islands
KENYA (2 Scholarships)
MALAYSIA (1 Scholarship)
NEW ZEALAND (3 Scholarships)
Rhodes Scholarship PAKISTAN (1 Scholarship)
SAUDI ARABIA (Up to 2 Scholarships)
SINGAPORE (1 Scholarship)
Rhodes Scholarship SOUTHERN AFRICA (10 Scholarships)
Covering South Africa, Botswana, Lesotho, Malawi, Namibia, and eSwatini
SYRIA, JORDAN, LEBANON, AND PALESTINE (2 Scholarships)
UNITED ARAB EMIRATES (2 Scholarships)
Rhodes Scholarship UNITED STATES (32 Scholarships)
WEST AFRICA (1 Scholarship)
Covering Benin, Burkina Faso, Cape Verde, Gambia, Ghana, Guinea, Guinea-Bissau, Ivory Coast, Liberia, Mali, Mauritania, Niger, Nigeria, the island of Saint Helena, Senegal, Sierra Leone, São Tomé and Principe, and Togo.
ZAMBIA (2 Scholarships)
ZIMBABWE (2 Scholarships)
Rhodes Scholarship Eligibility
Are you eligible for a Rhodes Scholarship?
You Must have Completed your Bachelor's Degree.
The basic tenure of the scholarship is 2 years. The Rhodes Scholarship is not for less than 2years.
The broad eligibility criteria of the Scholarship; definitive eligibility criteria are listed in the relevant Information for Candidates document for your country/region. Check your eligibility using Rhodes Eligibility Checker.
What Makes a Good Application for Rhodes?
Personal Statement
Reference Letters
Social Engagement
Final Interview
Rhodes Scholarship Winners
The 2022 Rhodes Scholars Announced. Click the links below to see who was selected during the 2021 selection round:
Deadline
The last date to apply for the Rhodes is 1st August 2022. The Rhodes Scholarship will open on 1st June 2022.
How to Apply
The Application for Rhodes Scholarship application for 2023 entry is also different for each country. Select Your Country and see the Detailed information. To Apply for Rhodes Scholarship: Visit the Official website of the Rhodes Scholarship.